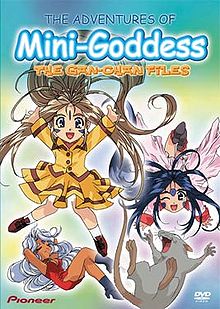 The Adventures of Mini-Goddess, also known as Ah! My Goddess: Being Small is Convenient, is a Japanese animated TV series that aired 48 episodes between 1998 and 1999.[1] It was directed by Hiroko Kazui and Yasuhiro Matsumura and was produced by Oriental Light and Magic. The series premiered on WOWOW as a part of the omnibus show Anime Complex.[2] It is currently distributed in North America by Geneon Entertainment.[3] It is part of the Oh My Goddess! series, which follows the adventures of three goddesses (Belldandy, Urd, and Skuld) and There pet Cat-mouse Gan-chan.
In Japan, the series aired on WOWOW between April 6, 1998 and March 29, 1999.[4] The season was then released on DVD and VHS by Pony Canyon. Six VHS tapes were released between December 18, 1998 and October 20, 1999,[5][6] and six DVDs were released between May 19, 1999 and October 20, 1999.[7][8] A DVD box set was released in Japan on February 20, 2008.[9] For Region 1, the season was licensed to Geneon Entertainment, under the name Pioneer Entertainment,[3] and was released between February 12, 2002 and August 13, 2002 in four DVD compilations, each of which contained twelve episodes.[10][11] Geneon released a limited-edition box set on July 1, 2003.[12]
The series had two pieces of theme music, both ending themes. "Denwa Shite Darling (デンワしてダーリン, Den-wa-shi-te-dah-lin?)" by Yuki Ishii served as the ending theme for episodes 1–24,[13] and "XXX (Kiss Kiss Kiss)" by Splash! served as the ending theme for episodes 25–48.[14]
Community content is available under
CC-BY-SA
unless otherwise noted.