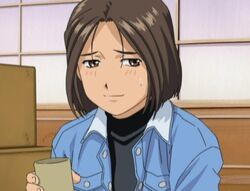 Megumi Morisato (Morisato Megumi) is one of the many characters in Anime/Manga series Ah!/Oh My Goddess! and is Keiichi's younger sister. Just like her brother, she was born in Hokkaido, Japan. She has been stated to be only one year younger than Keiichi.
She also attends the Nekomi Institute of Technology, like her brother Keiichi. She is also a very skilled mechanic and even went against Skuld in a robot construction contest (the result was a draw). In the manga, she is shown to be a very skilled motorcycle driver, although she claims that Keiichi and Belldandy are better than she is. It is hinted in the OVA that she joins the Motor Club, but in the manga, she is actually a member of the softball club.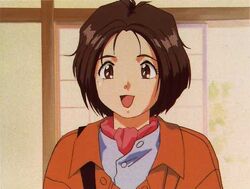 She is also given the title "Racing Queen" for her impressive ability in drag racing and other types of racing, despite her claims of her brother being better. Early on,
Megumi is a frequent visitor to her brother's temple, but she doesn't play as much of a role in the series as it progresses.
As Keiichi's younger sister, it is her role to good-naturedly tease him about Belldandy and any other aspect of his life which catches her attention. However, Keiichi loves his sister and will help her when she needs it - for example, helping her find an affordable apartment in the manga.
Her name (めぐみ, megumi) means "blessing" in Japanese. This seems appropriate given the way she was first introduced in both the manga and the TV series: she appeared in answer to Belldandy's prayer for sustenance.
It has been revealed that she has dated 3 guys in total since her arrival to the town. Also, the 3 of them have dumped her for the same reason: She is Morisato Megumi, someone too famous around the campus. She is the queen of the ridge and whom everyone wants to have as their little sister. And that's something that really bothers her.
Community content is available under
CC-BY-SA
unless otherwise noted.