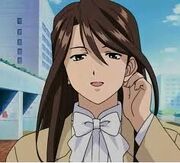 Sayoko Mishima
is an electronics major at Nekomi Institute of Technology, and serves as an antagonist for the first chapters of the series. Prior to the beginng of the series she was Nokomi's "Queen of The Campus" due to her social standing, attractive looks, and influence. Heri She's the indisputed Queen of the Campus... that is, until,
Belldandy
came along.
Sayoko's little monarchy was threatened by Belldandy, and by the time Belldandy was crowned the new Queen of the Campus, Sayoko was completely dethroned. Utterly defeated, no matter what sneaky underhanded tricks and schemes she could craftily fuse. One might blame it on the Ultimate Force. Others can blame it on the innate "I win everything" nature of Belldandy. But Sayoko knew that she had to defeat this woman, at any cost to regain her position.
Besides Keiichi Morisato, Sayoko is probably the very first mortal to realize that Belldandy is a goddess. She's witnessed her powers before, but Sayoko didn't believe it until the Anki story. However, that alone didn't stop Sayoko from giving it her all in defeating Belldandy. She joined hands with a demon (Mara) before. And she would do it again.
Queen Sayoko
Edit
Thus enters an arc with a very transitionary art phase... the Queen Sayoko arc. Sayoko joined hands with the demon Mara once again, and became, quite literally, the Queen of the Campus. However, Sayoko soon realized... this isn't what she wanted.
Yes, she finally managed to defeat Belldandy. But it was heckuva /boring/! Sayoko didn't want to control Belldandy with her mindforce waves, or have Belldandy go back to wherever she came from; Sayoko wanted Belldandy to be defeated, and know it. Sayoko wanted Belldandy to be writhing in pain and defeat, and Sayoko wanted her to be there to gloat.
Sayoko then realized that even joining hands with Hell wouldn't give her what she wanted. At the core of it, she wanted to utterly defeat Belldandy. But, she wanted to do it herself.
Conclusion
Edit
All in all, Sayoko may be a villain, but she's a complex character with many motivations. She seems to develop feelings for Keiichi as the series develops, and though at first Keiichi was nothing more than a means to the end, Sayoko began falling in love with his traits. Even this would be translated into the anime; in episode twelve, Sayoko was offended that mind-controlled Keiichi could think of nothing but Belldandy.
In the end, we may never see Sayoko again; she's turned in her graduation dissertation, and there are other villains to deal with. But if being an antagonist were a job, much like being a goddess or a demon... Sayoko would be climbing up the ranks for her splendid performance.
Community content is available under
CC-BY-SA
unless otherwise noted.